KU Leugen is the satirical section of KU Leuven's student newspaper Veto. From May 2016 until May 2018, Klaas Van den Broeck and I were responsible for writing most of the content of this humorous section.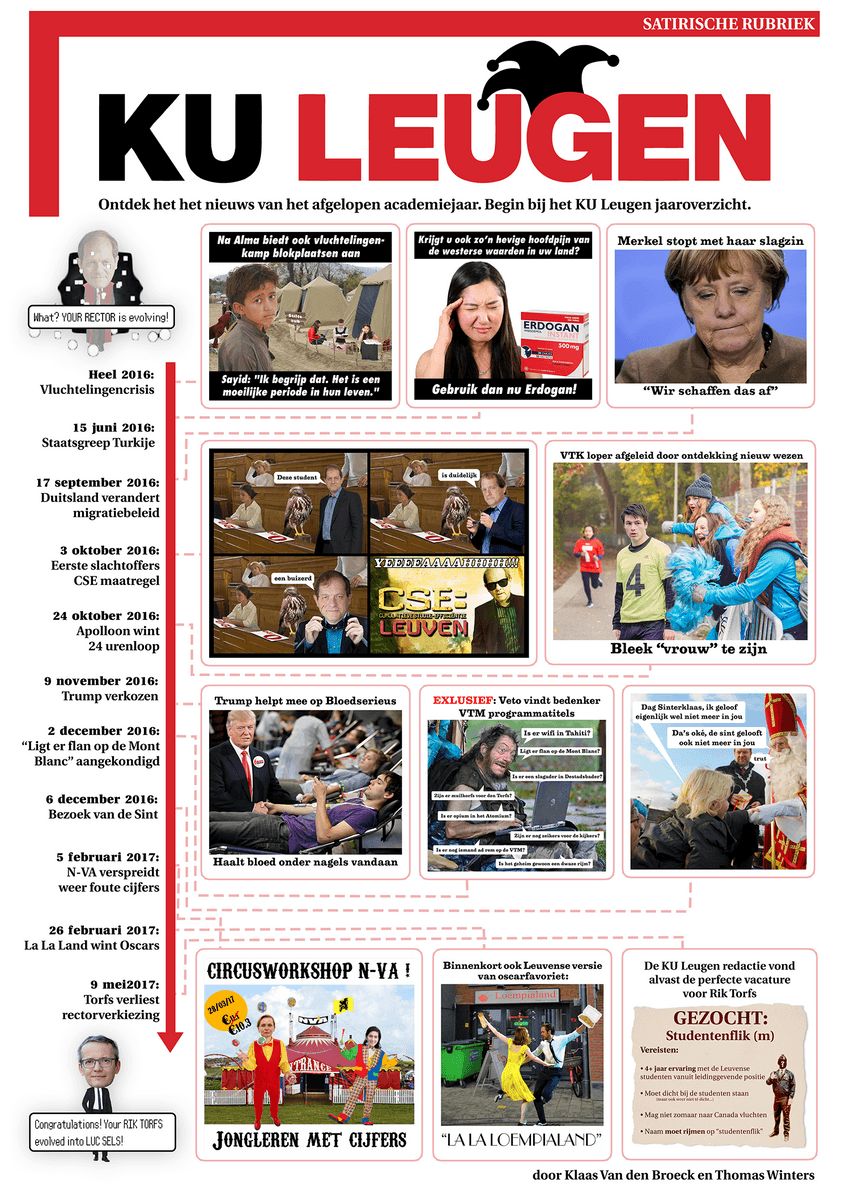 History
Throughout 2016-2017, we created an A3 full of cartoons every week. The next year, this turned into only creating a page every two weeks, due to Veto switching to being a magazine and only having 13 instead of 26 editions.
We inherited this satirical section from Jeroen Baert, who managed it for several years, but had left years earlier. Veto asked Klaas and me (as we were part of Preparee) if we were interested in writing for KU Leugen as their own members usually preferred writing articles.
Jokes about Leuven typicalities
One key attribute of a successful KU Leugen joke was that it should be relatable to most Leuven students, not just a small subset. One way of achieving this is by using places and people from the city, or the university itself.
Alma
All students generally know the typicalities and frustrations of student restaurants, such as ridicously expensive salads. The daily vol-au-vent dish also served as great inspiration for satirical pieces.

Rik Torfs
Well-known people like our rector Rik Torfs, who is also prominent on TV and known for his philosophical quips, were of great use for our punchlines. Professor Torfs is also well known for his tweets and is with about 130,000 followers one of the most followed Belgians on Twitter. Beside cartoons, we also created TorfsBot to automatically parody him on Twitter.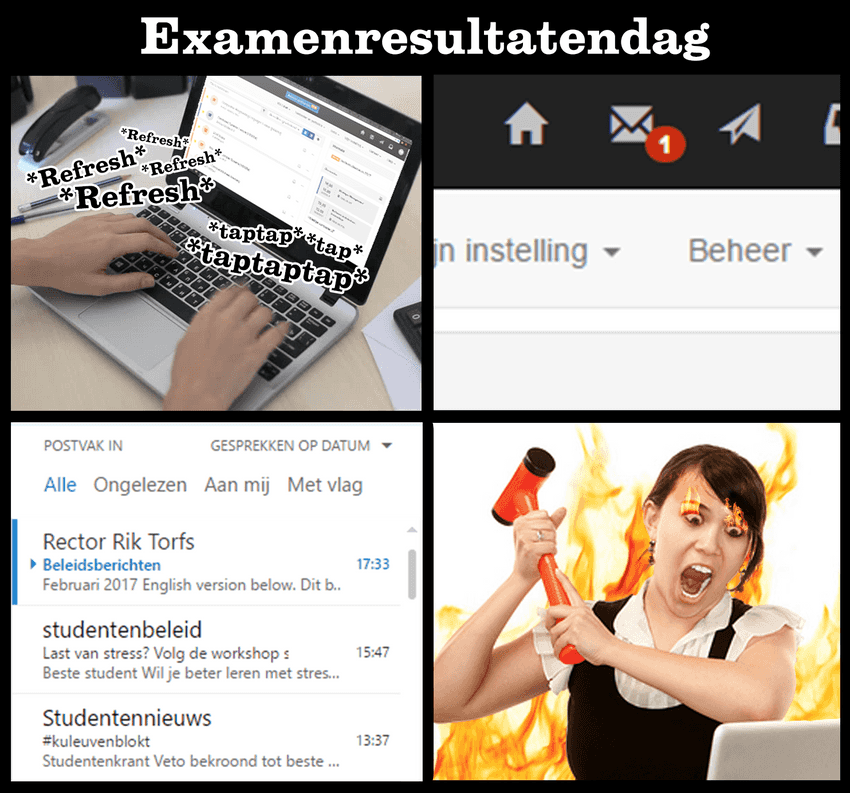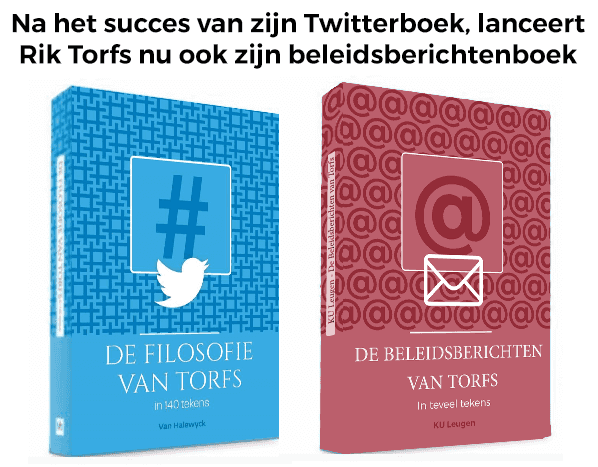 * The left-most book sadly isn't satire, but truly exists
Luc Sels
Torf's successor, rector Luc Sels is also occasionally the butt of the joke, mainly for wanting to reorder the academic year without a proper re-exam period.

Mark Peeters
Another well-known Leuven figure we often referenced is conspiracy theorist Mark Peeters, who went to all campuses to challenge students with his beliefs. He is well known for denying that the moon landing ever happened and promises money to whoever can prove him wrong.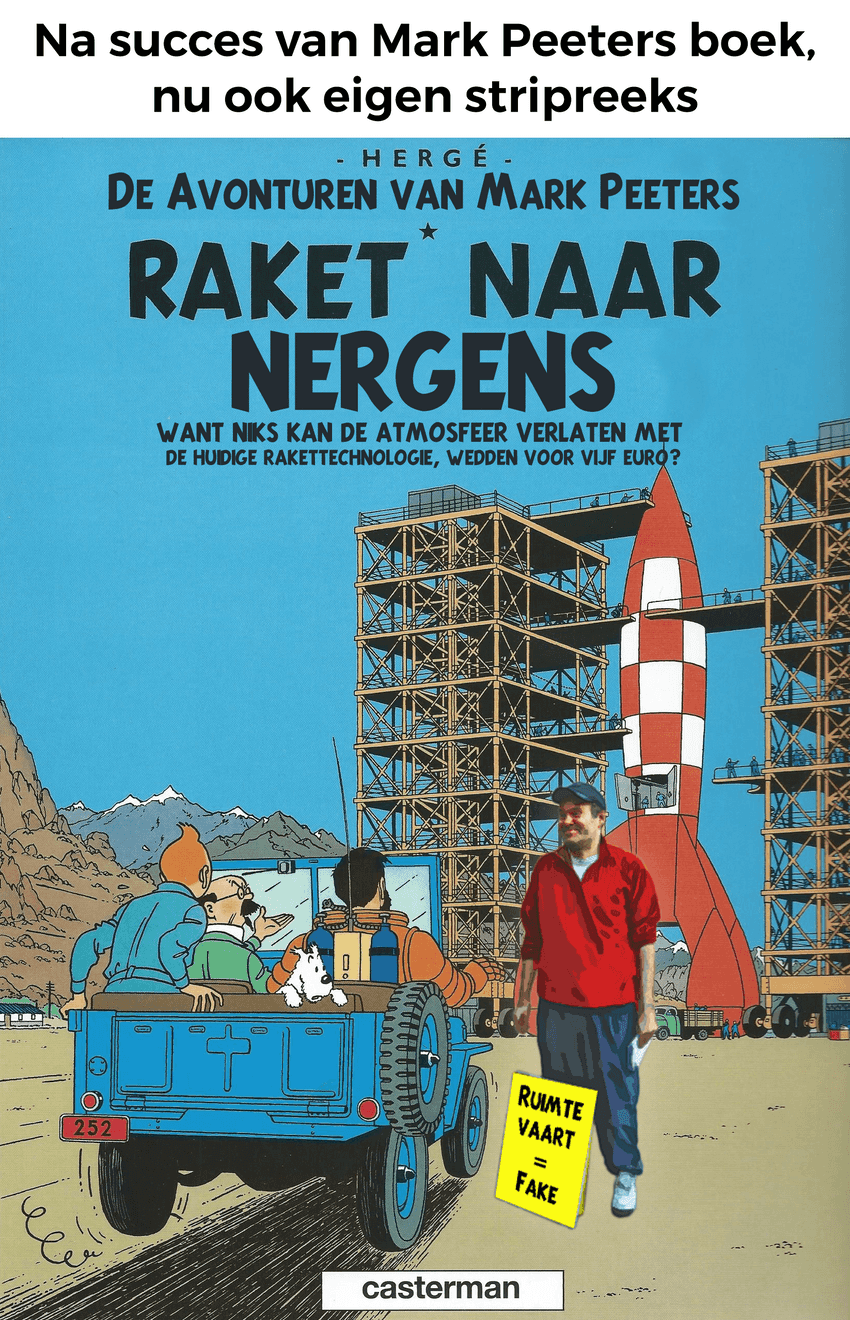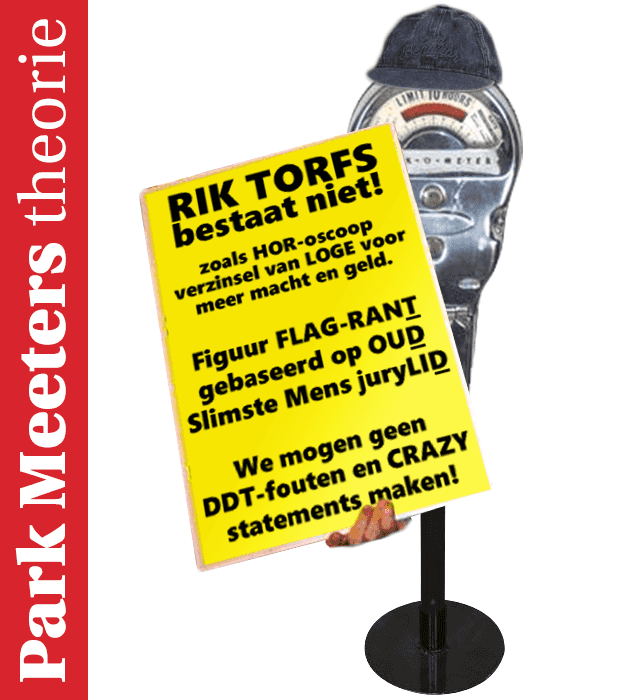 Loempialand
We often poked fun at the Vietnamese spring roll restaurant called "Loempialand" (mainly due to its funny name and its reputation under students), turning the place into a popular punchline.

24 urenloop
The 24 urenloop is a 24-hour relay race between student faculties. It is an enormous yearly event where almost all KU Leuven students get together to support their runners, eat at the many faculty food stands, and watch music performances.
Given that this is one of the main student events, it is also called the "high day of the KU Leugen", as we also do a cartoon-creation marathon in parallel with the relay race there every year.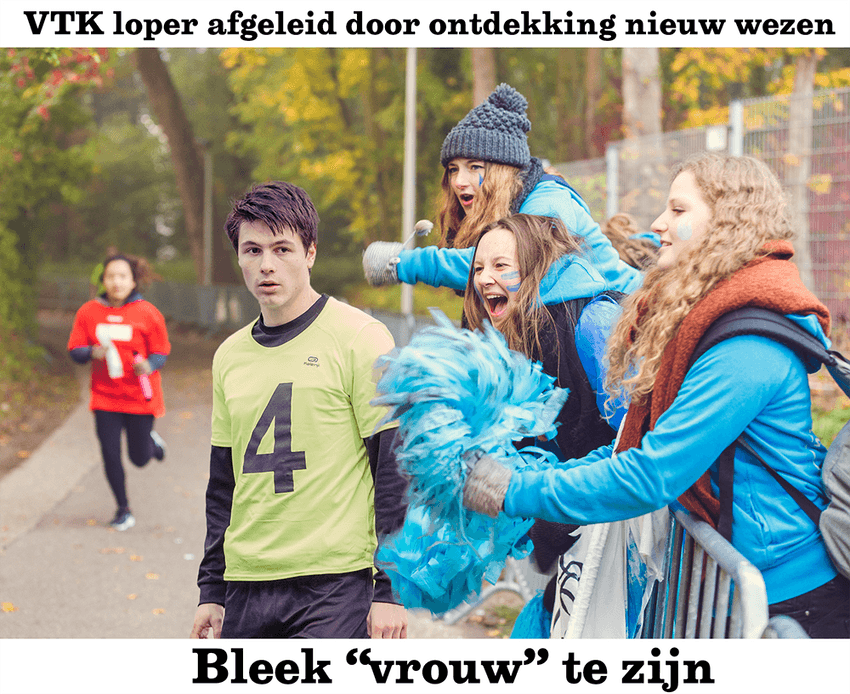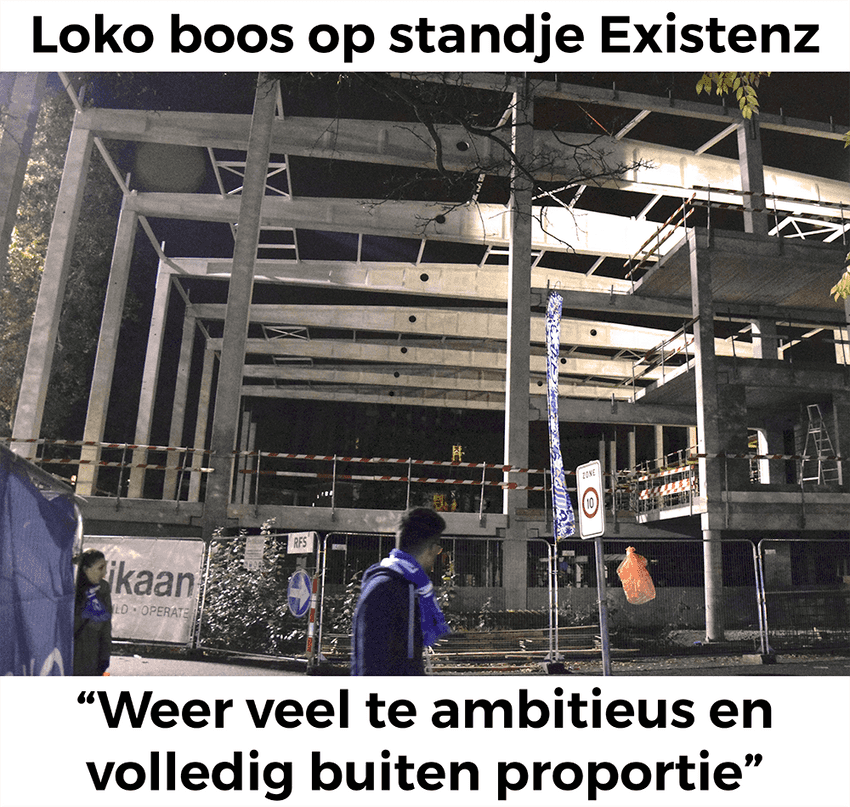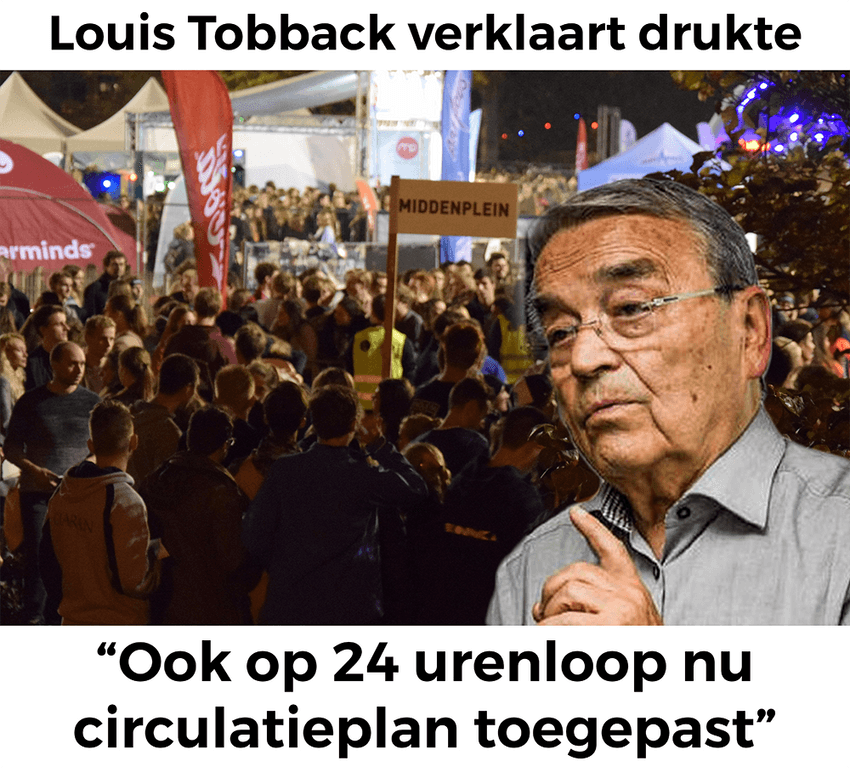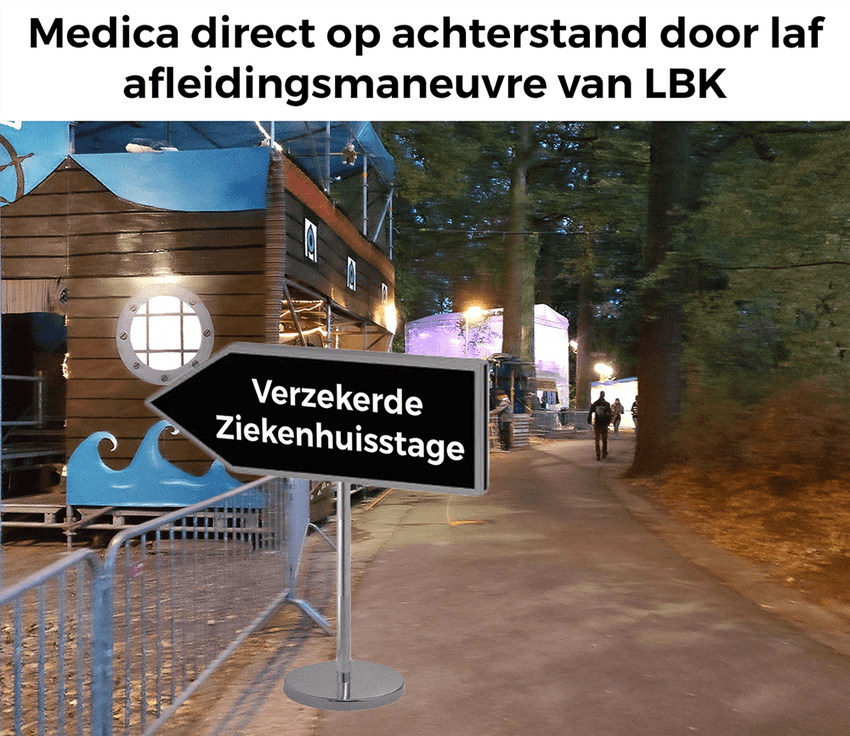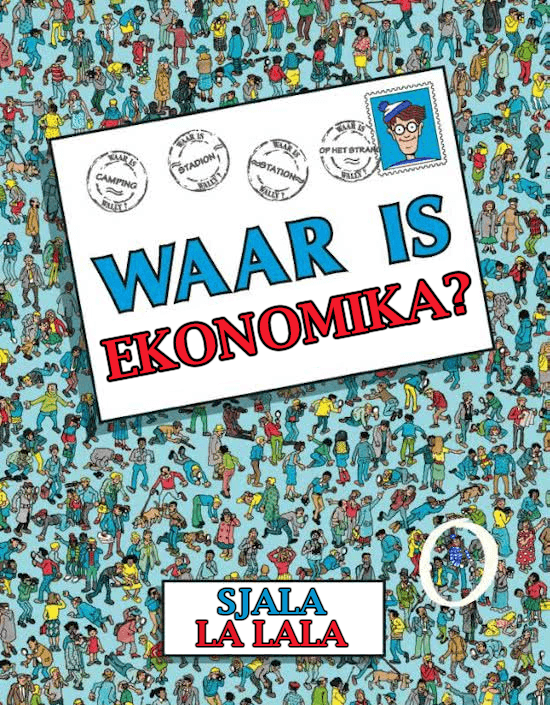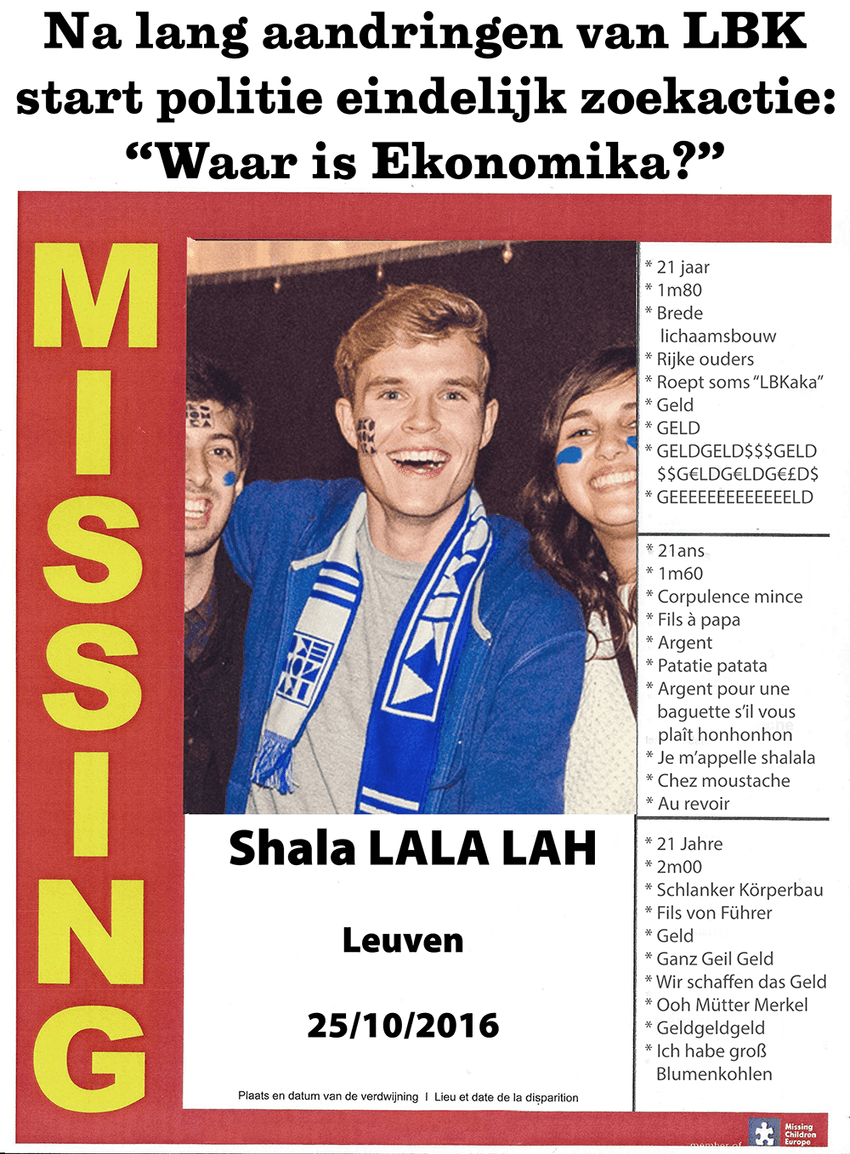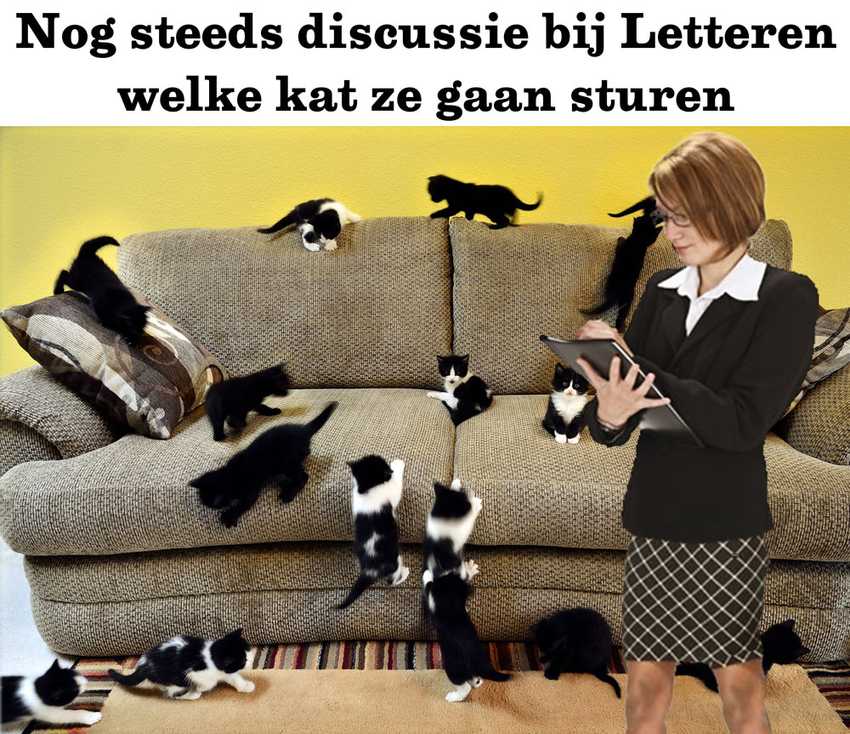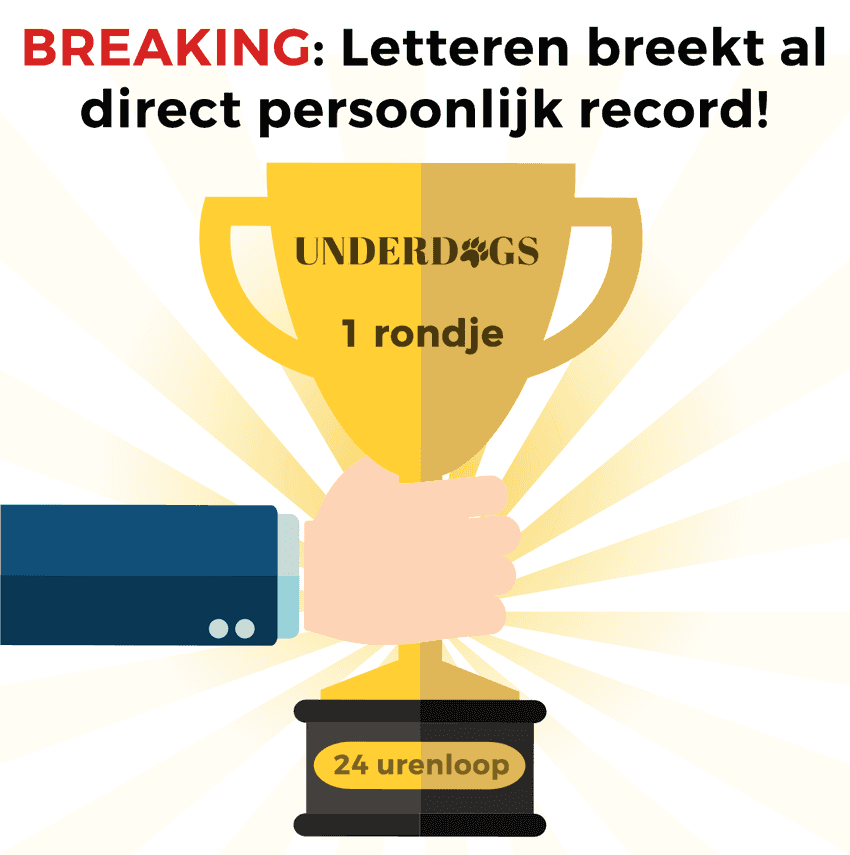 Series
We found that having recurring series helped the KU Leugen brand, and made it easier for us to come up with many cartoons each week.
CSE
The CSE (Cumulative Study Efficiency) was a new rule at the KU Leuven where you had to succeed for 30% of your credits taken in the first year. Students failing this constraint were required to quit the university, thus having their student career "killed".
This, and the closeness of CSE to CSI prompted us to weekly make a new cartoon series based on the opening of CSI.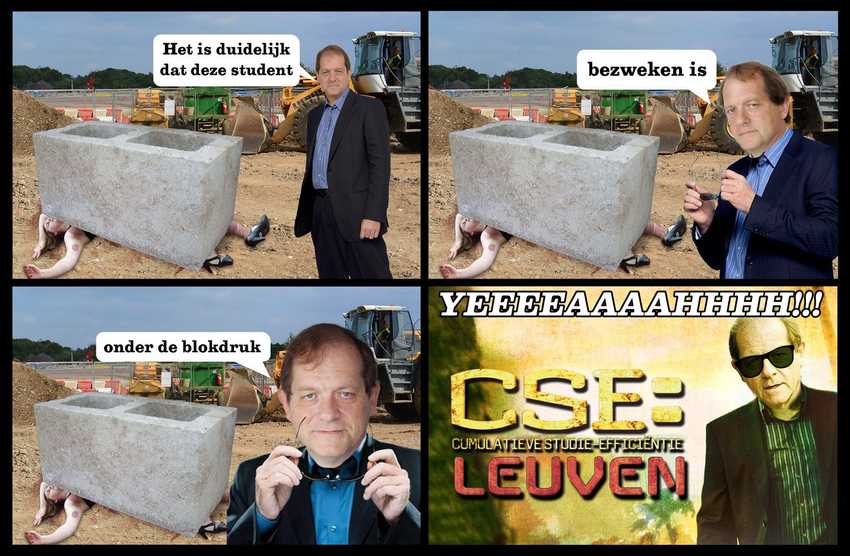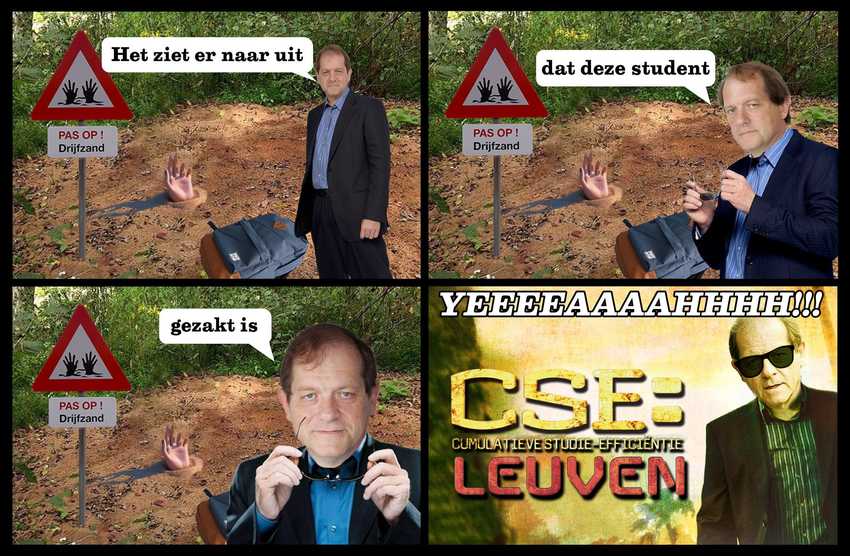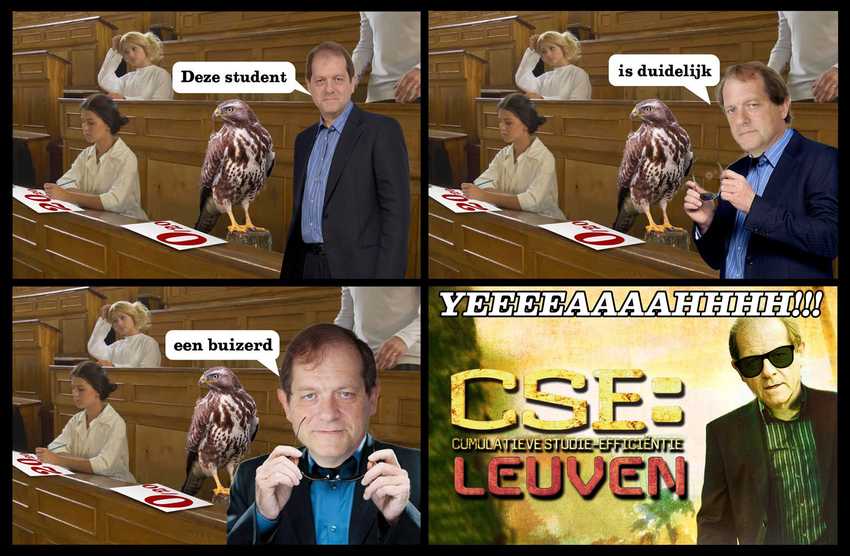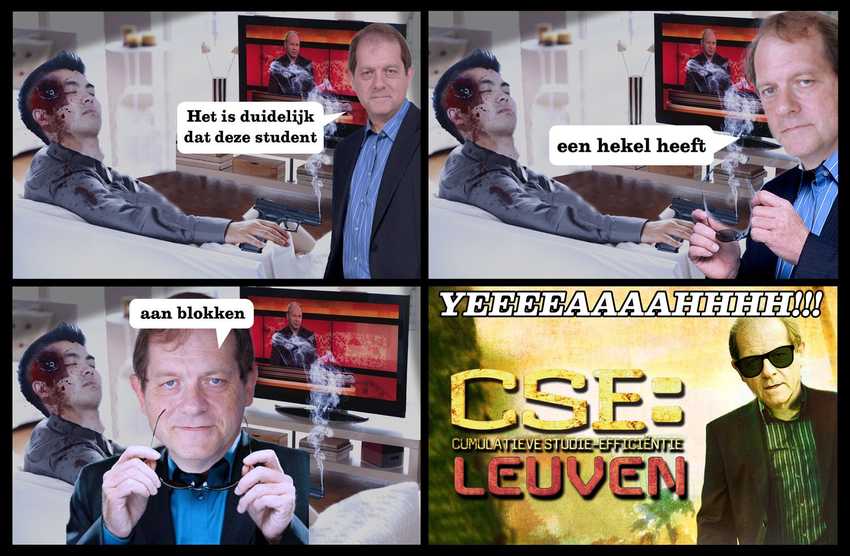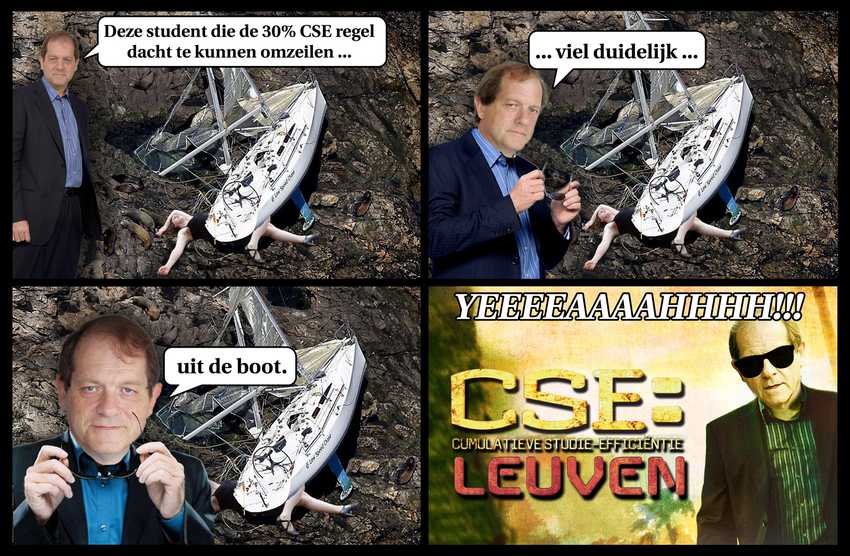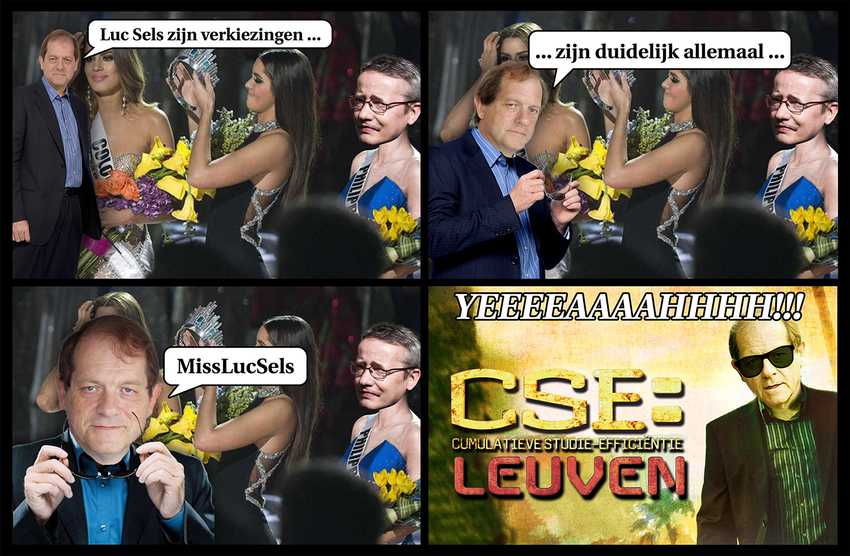 Pol & Sok
Pol & Sok is a comic we created about a typical but dense student called Pol and his smart ventriloquist dummy called Sok. The name is of course a pun on Pol & Soc, being the nickname of the Political science and Sociology major.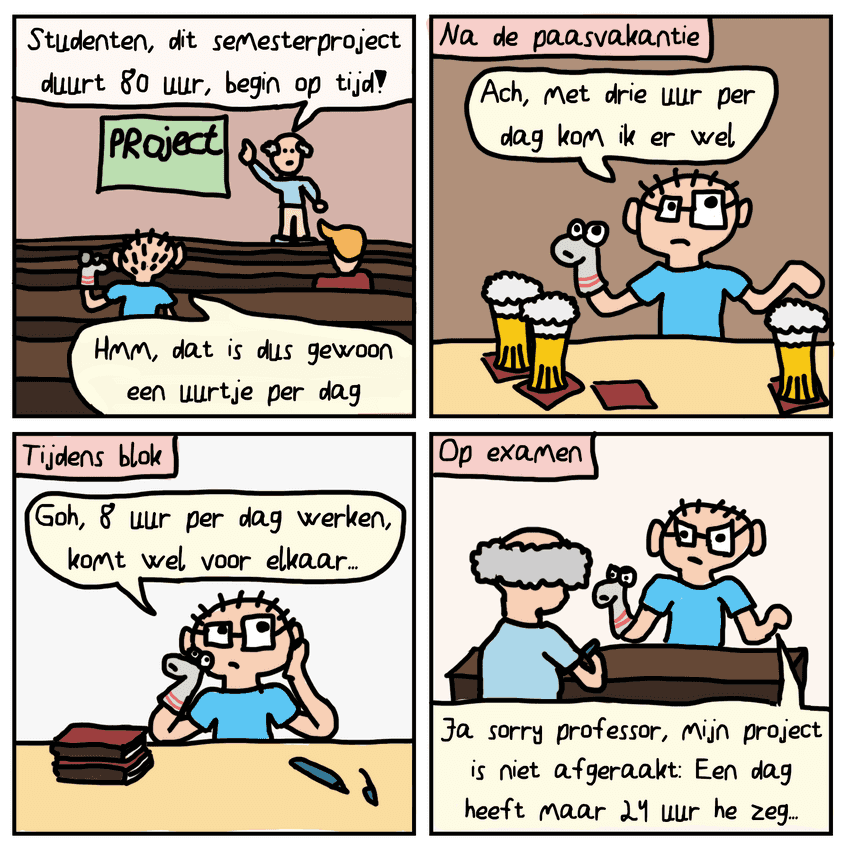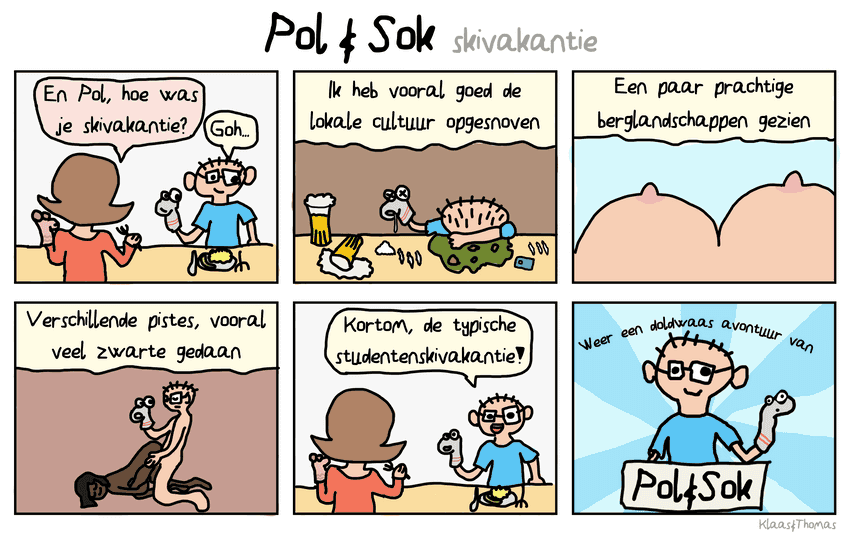 Fun with the format
Since it was often just the two of us contributing to the KU Leugen page, and KU Leugen not really having well-defined rules, we were able to perform a lot of fun, little experiments with the format. We would sometimes turn it into a game page, had parts of the page you could cut out, jokes that crossed pages or referenced interviews or ourselves among others.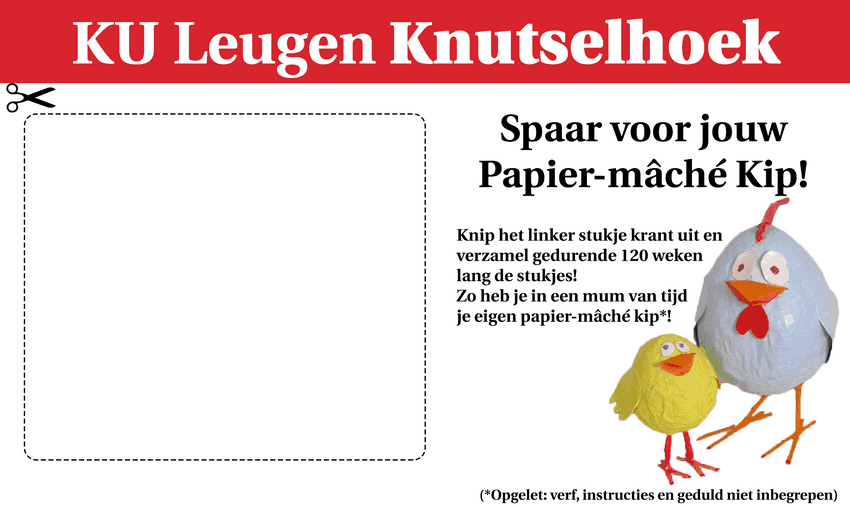 KU Leugen Kerststal (Nativity scene)
For Christmas, we created a cutout Nativity scene with popular Leuven figures, including the new and old rector, the student police agent, some local politicians, and others. Since Veto just moved from being a newspaper to being a magazine, the paper was finally strong enough to physically support such shenanigans.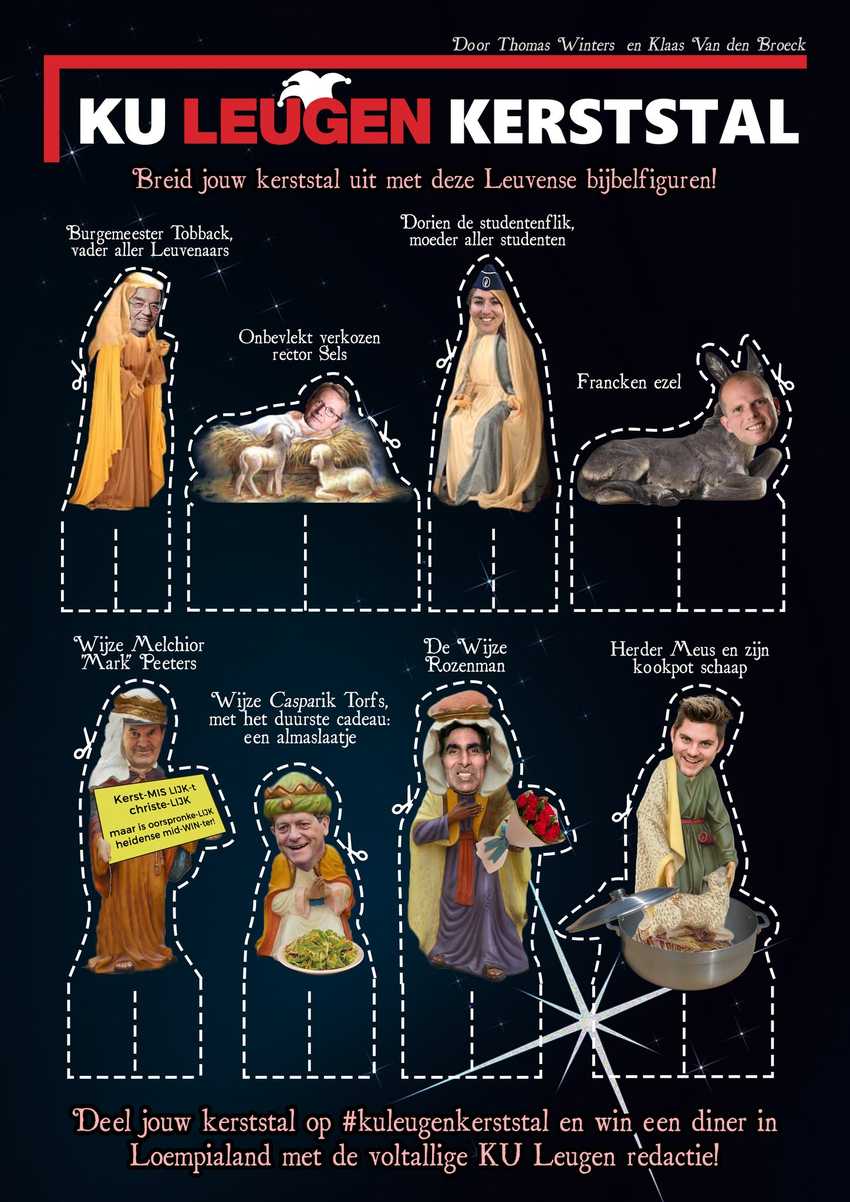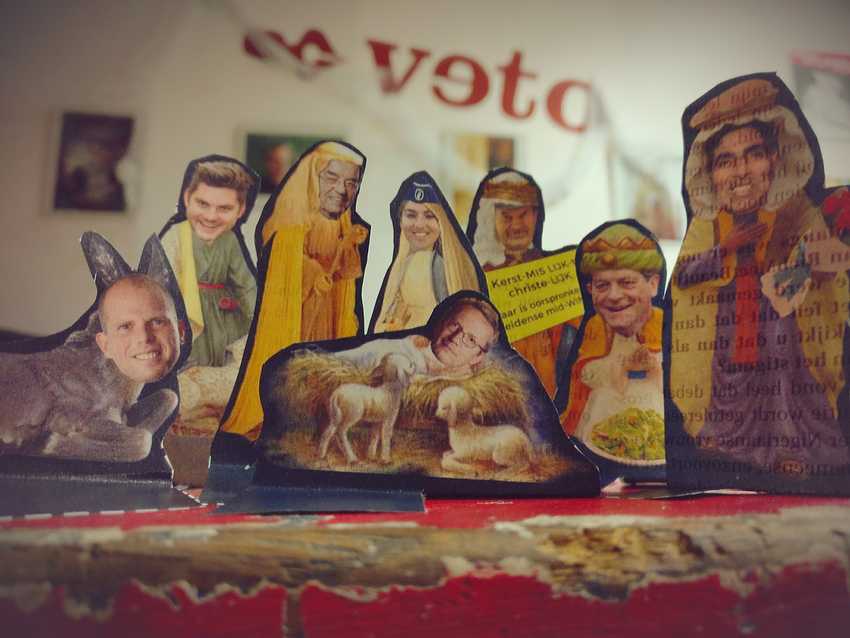 Kabouter Wesley cartoon with Jonas Geirnaert
Every edition, Veto interviewed a famous Belgian. One week, the interviewee was Jonas Geirnaert, who is 1/4th of Neveneffecten and writer of the Kabouter Wesley cartoon Since Klaas and I are huge fans of his work, we wanted to have some sort of collaboration for the next KU Leugen (after our previous collaboration through Preparee during an improv show with Neveneffecten the year before). We requested him to work on a new Kabouter Wesley cartoon together, where we would create nine panels, and he could fill the last three however he wanted. Jonas Geirnaert, being the kind-hearted person that he is, accepted our offer and helped us create the following cartoon: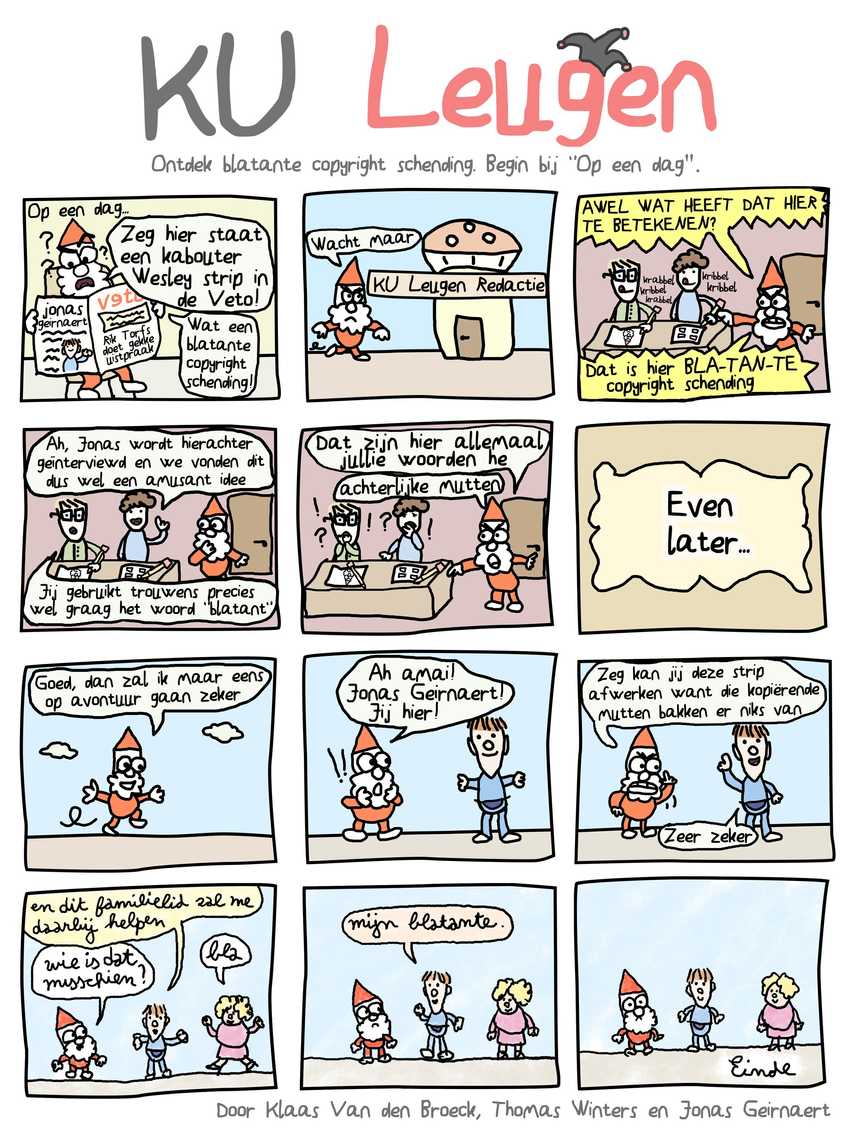 TorfsBot
TorfsBot is a Twitterbot that automatically parodies Rik Torfs. He was invented during our very first KU Leugen meeting when Klaas and I were brainstorming with the general cartoon editor about new formats we could bring to the KU Leugen.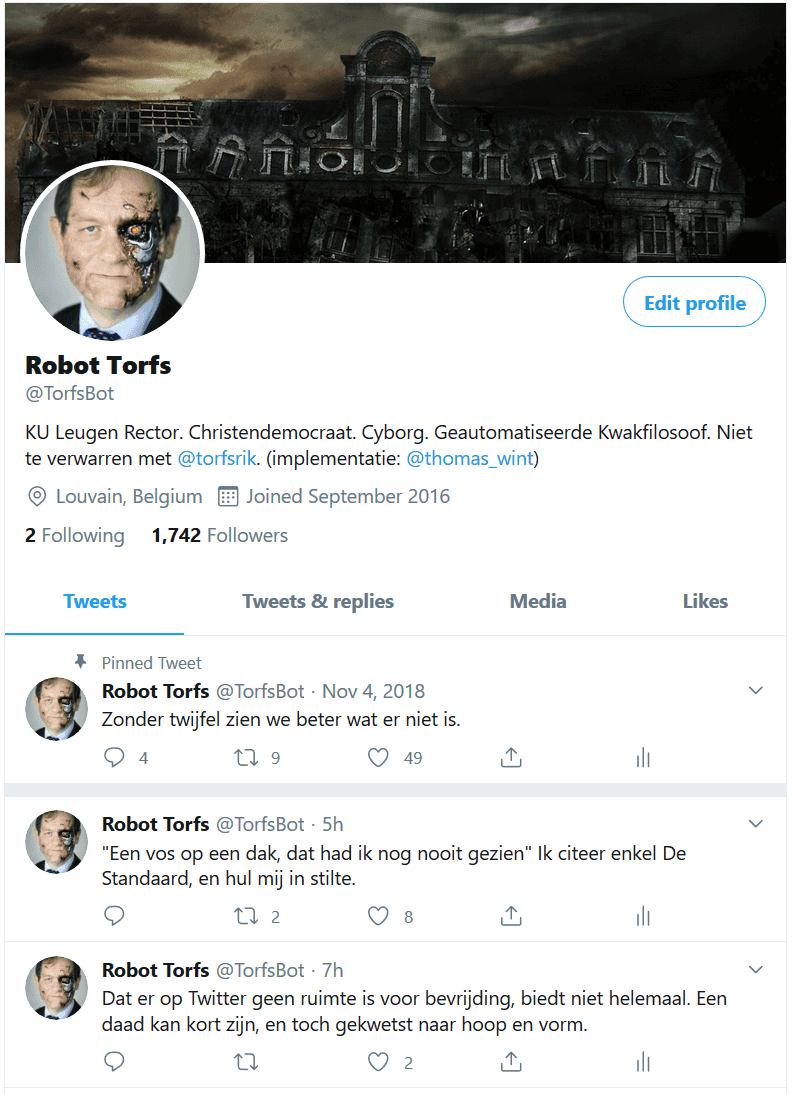 FrankenSimulator
We also created a game to mock the Belgian politician Theo Francken, who was involved in a large immigration scandal. In the game, the life of Theo Francken is simulated by making him keep out asylum seekers away from a passport by writing their name. While initially he only has to deal with children, soon his parents with longer names show up. In the end, judges with really long names show up (as they were enforcing penalty payments).
This game was created by complete reskinning one of my previous games, namely DragonScriber, and adding high scores and reviews.
You can play the game here.