Impy is an Improv Management Platform for Your improv group, available on https://impy.app.
The platform aims to be an all-encompassing, group-first platform catering to the needs of an improv theatre group. It is accessible as a website and as a web app. Tens of Flemish improvisational theatre groups use Impy to manage their events, members, games, workshops, and other improv knowledge.
(Note: all screenshots use substituted data for privacy reasons, hence the combination of English/Dutch in the screenshots. The website itself is completely in Dutch, although there are plans for providing an English version as well later. Click on the screenshots to enlarge them)
Calendar
Impy's main page is the calendar, both as a month overview as well as a list of all events, e.g. workshops, shows, or other activities.
Group members can easily mark their attendance on the calendar, as well as the event page itself. This way, the rest of the group knows how many people to prepare for the workshop, and who to wait for at the start of a workshop.
Role management
One of the most useful features on Impy for improv troupes is the event role management system. Members can indicate their preference for certain roles, e.g. for presenting an improv show or coaching a workshop. Group admins can easily specify roles exactly to their needs for every event, and group members know exactly who else is fulfilling what role.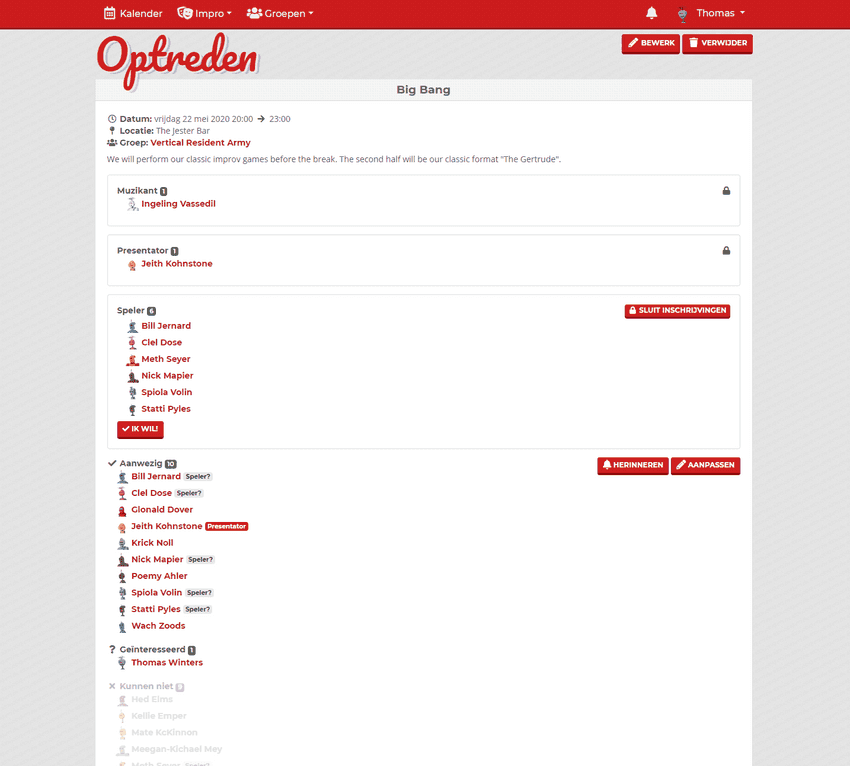 Group admins can easily remove and add members, even when they did not themselves apply. Roles can be locked when the admin committee has selected the people to fulfill a certain role. They can also limit the number of people that can register for a particular role, and indicate a minimum number required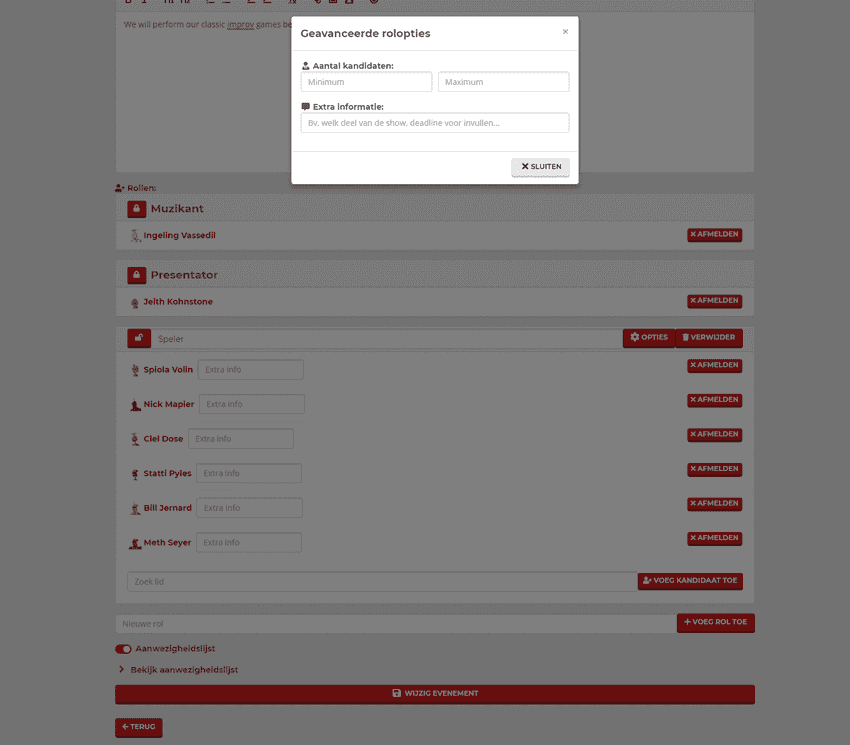 To make sure everybody marked their attendance status for a particular event, group admins can easily remind all people that were recently active, but did not respond yet. A member is active if they were present in one of the events in the last couple of months, or having joined the group in that period.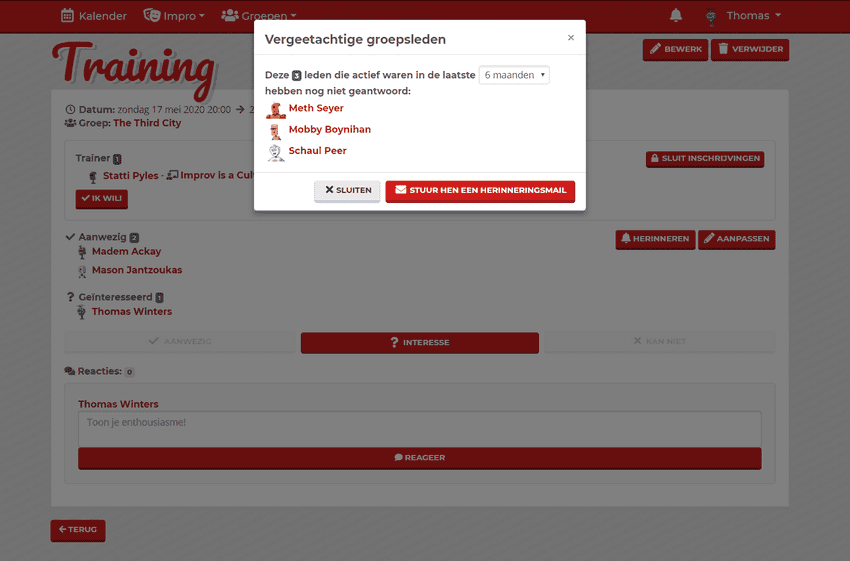 Announcements
Group announcements can easily be sent to all group members, and will also be displayed at the top of the calendar for a particular time.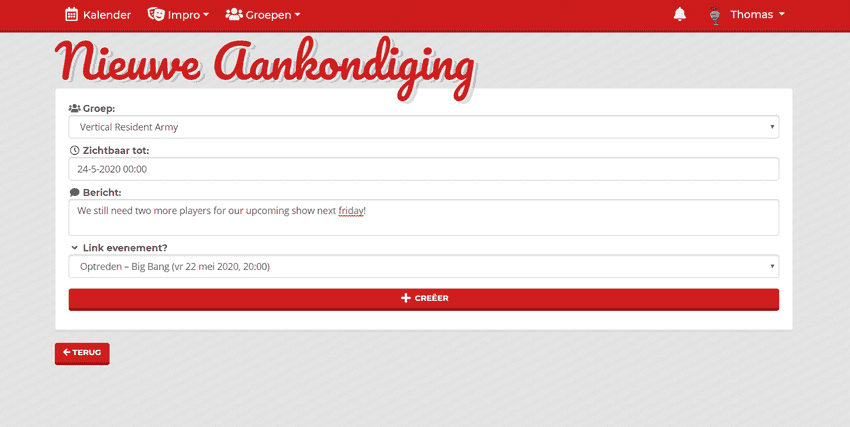 Advanced role planner
For large improv groups, it can be quite a tedious task, in general, to plan which actor is playing where and when based on their possible future attendancies. Impy aims to help with the advanced role planner. This planner behaves like a table, with every active member as a row, and every event as a column. Each event has a column of buttons for every role it contains.
In this overview, members' attendance statuses are marked with green (going), orange (interested), black (not going), or grey (not responded). This way, a group admin can plan which member performs which role when, based on their marked attendance status. The overview also provides statistics for how often a member went to recent workshops, and fulfills a particular role in a chosen time.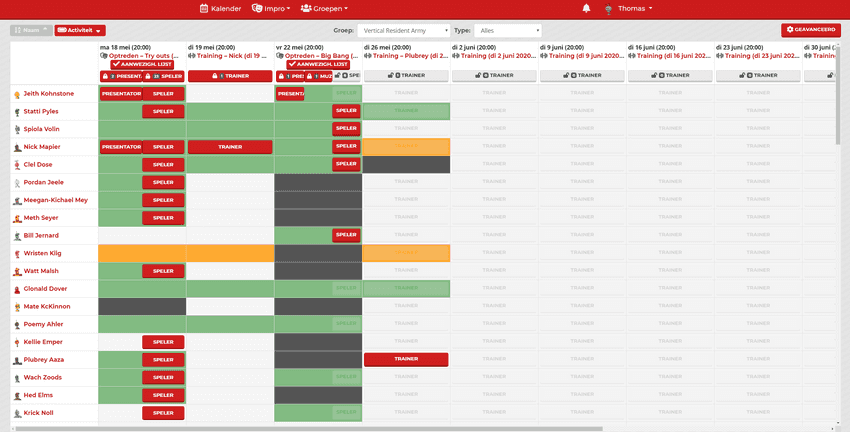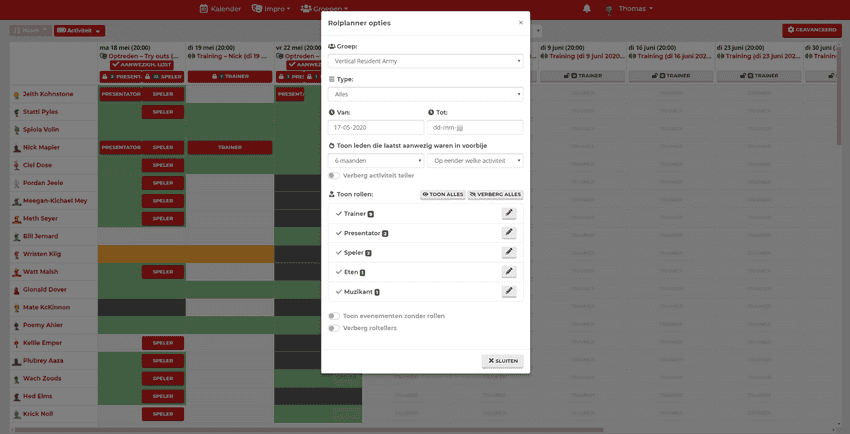 Member overview
The main group page contains information about the group and its members. When clicking on a member, one can easily see how often they came to activities recently and what their roles in upcoming and past events are. Members are also able to share their address and phone number with associated group members, such that these can easily be looked up when necessary. The group system also contains a system for managing wiki-like group information.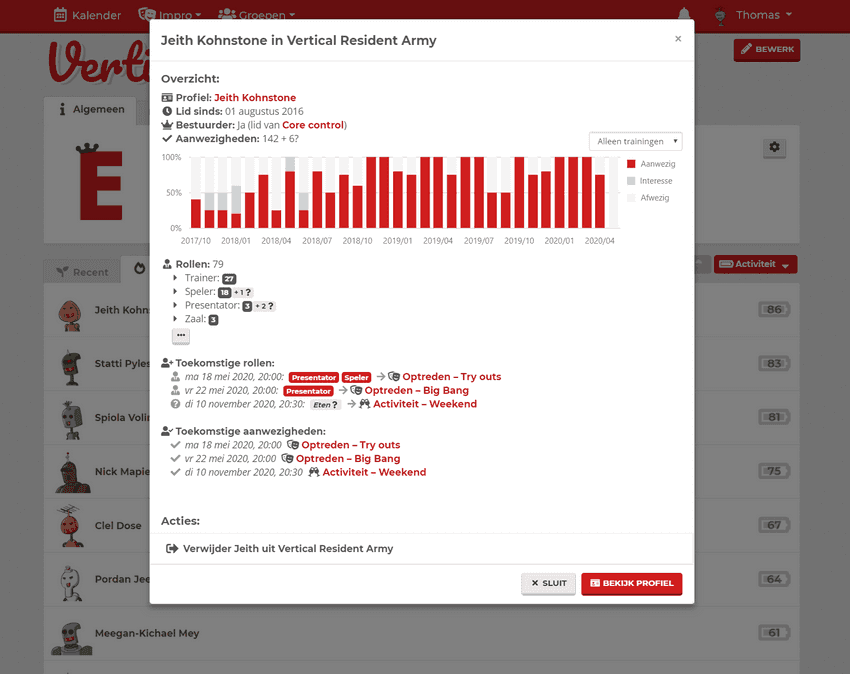 Improv knowledge
Impy also serves as a central improv knowledge hub between all improv troupes using the platform. It contains easily searchable improv games, theory, and workshop preparations.
Games
Impy contains hundreds of easily searchable improv games. Search tags include the type of game (warm-up game, scene game, audience interaction), the number of players, whether it's an exercise or show game, and what skills the game uses or practices. Games themselves do not only have tags and explanation but also variations, tips and related sources added by other members of the Impy improv community.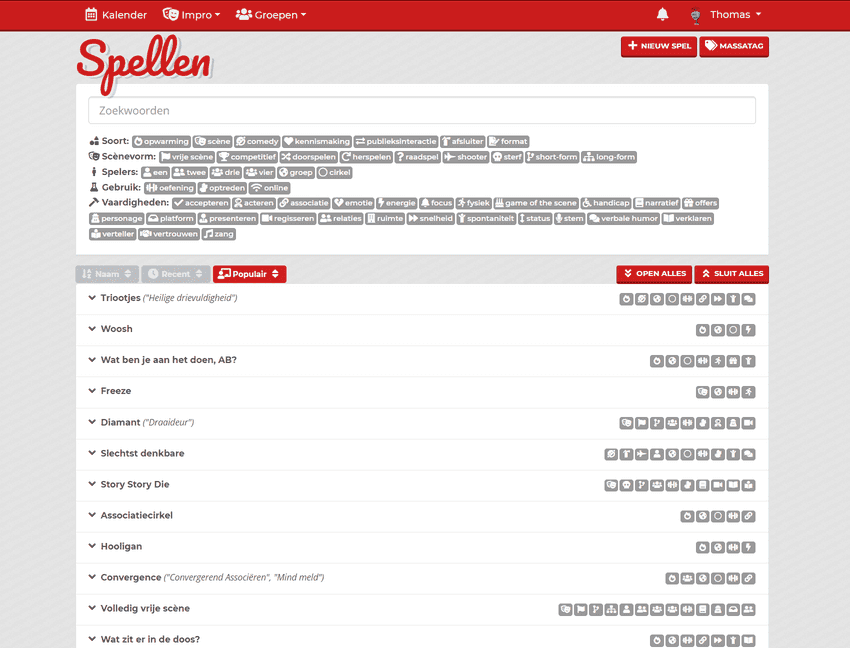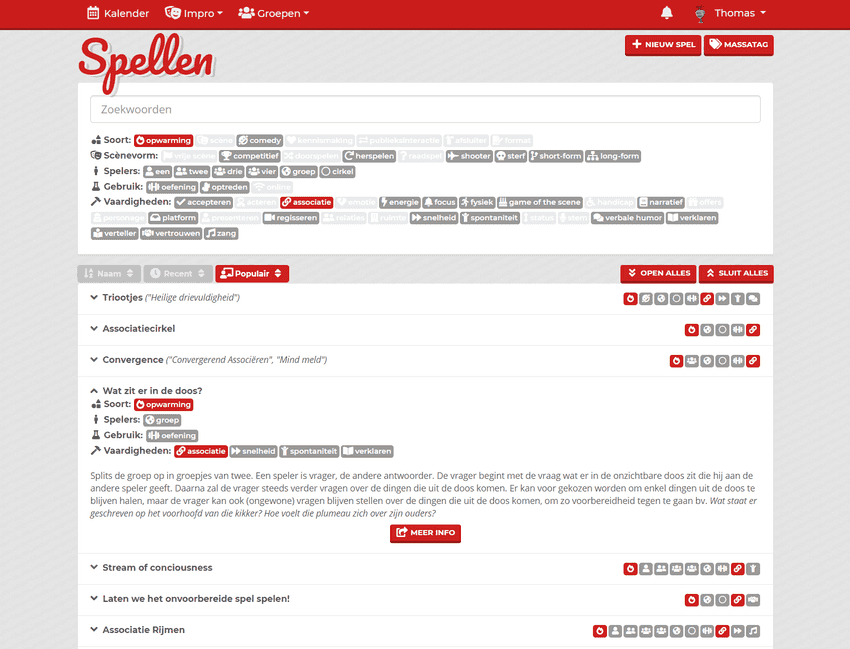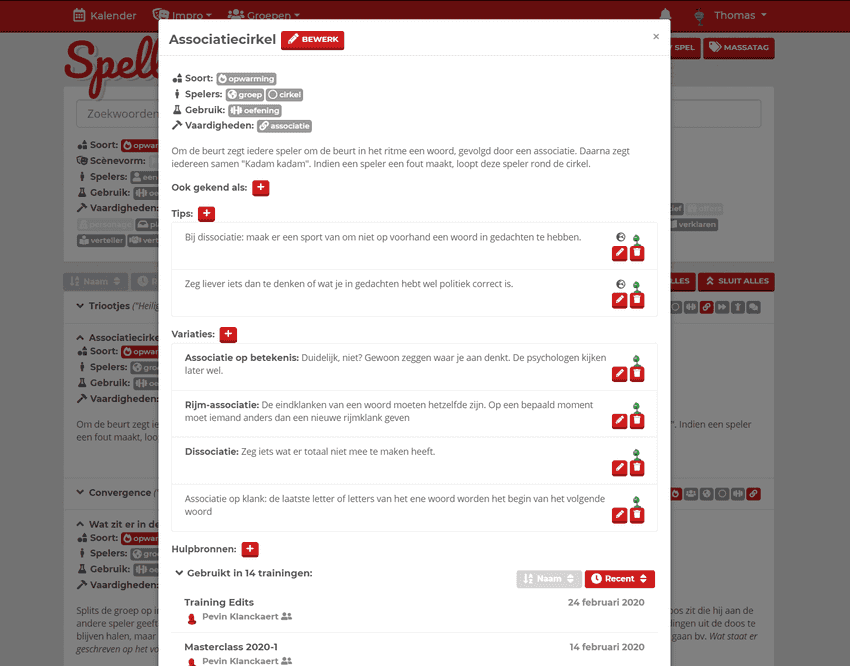 Theory
Impy members can also add theories that they have about improv, e.g. how to establish a character well or where to draw inspiration from in certain situations. Such theories can be limited to only be visible within your improv group or shared with the rest of the Impy community.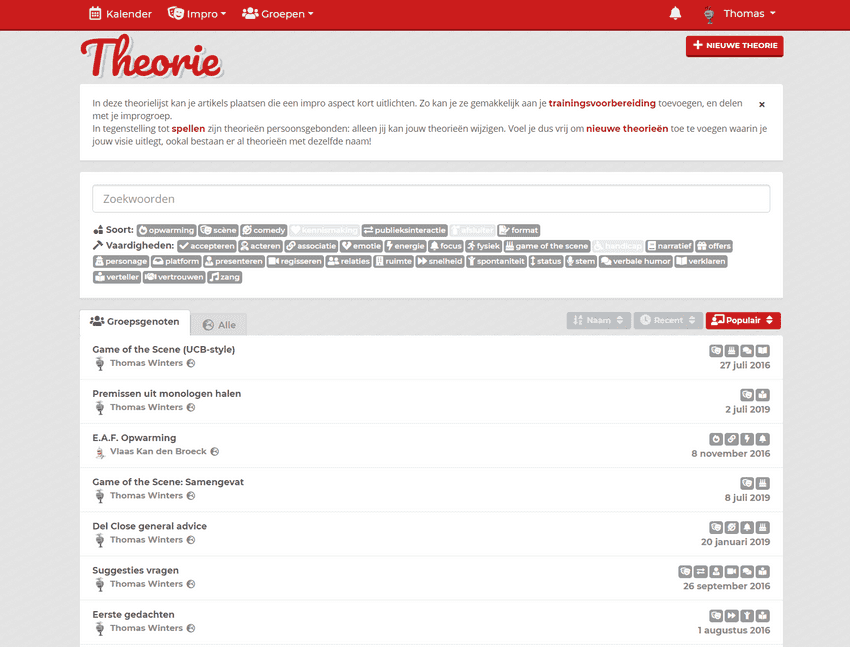 There is also a list of jargon terms that are often used in improv.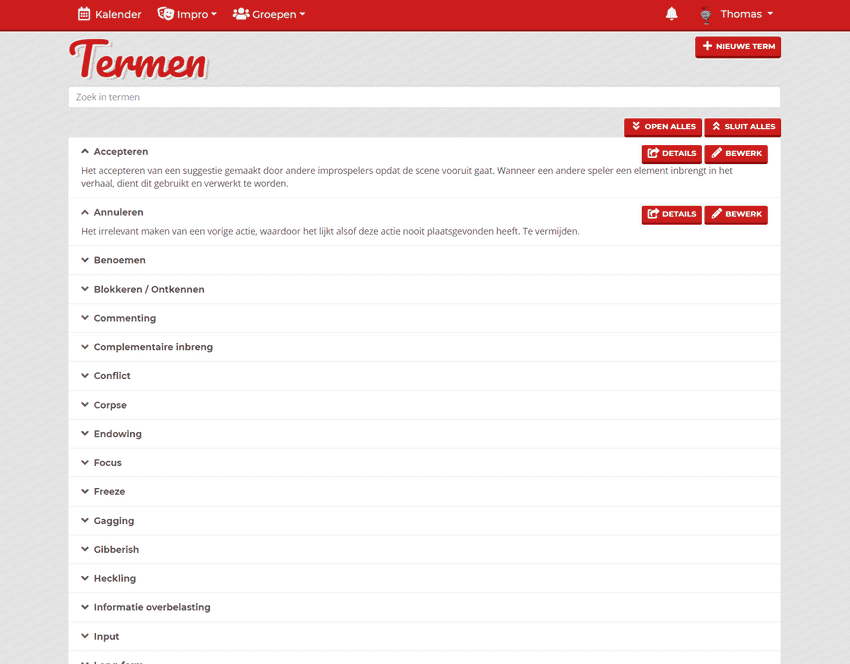 Trainings
Members can add their workshop preparations to Impy, thus preserving this improv knowledge for their improv groups in years to come.
These workshop preparations link to elements of the existing games & theories database, thus making it easy for people to know what a particular game is. This solves the issue of improv games having many different names, and that might even change over time within an improv group.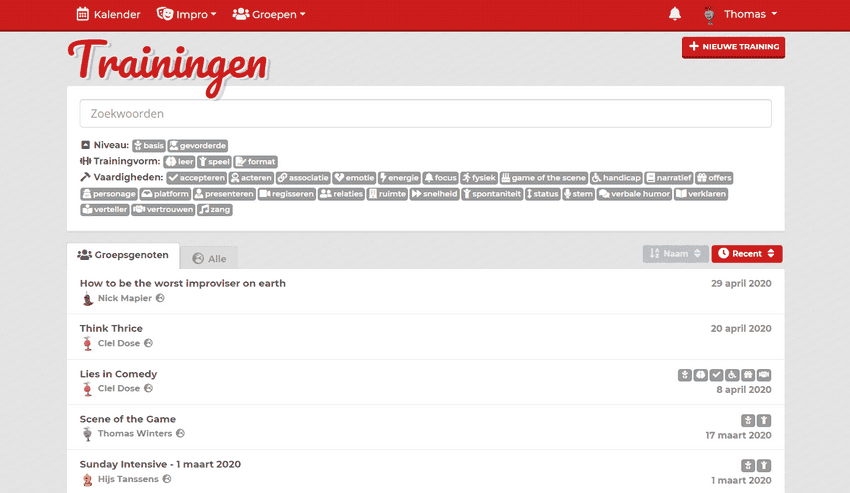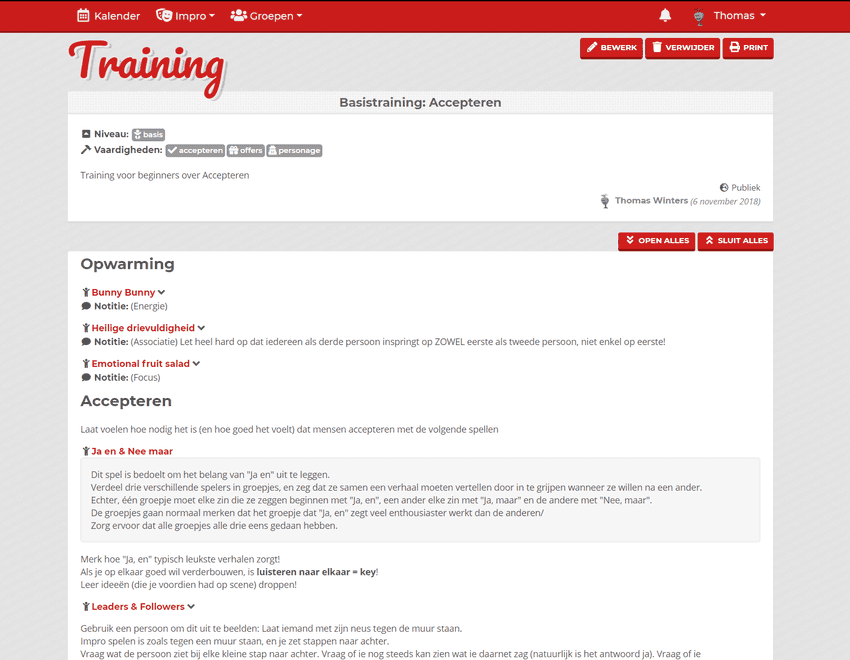 Creating such a workshop has an easy search, drag & drop interface to easily create your training and reorder its elements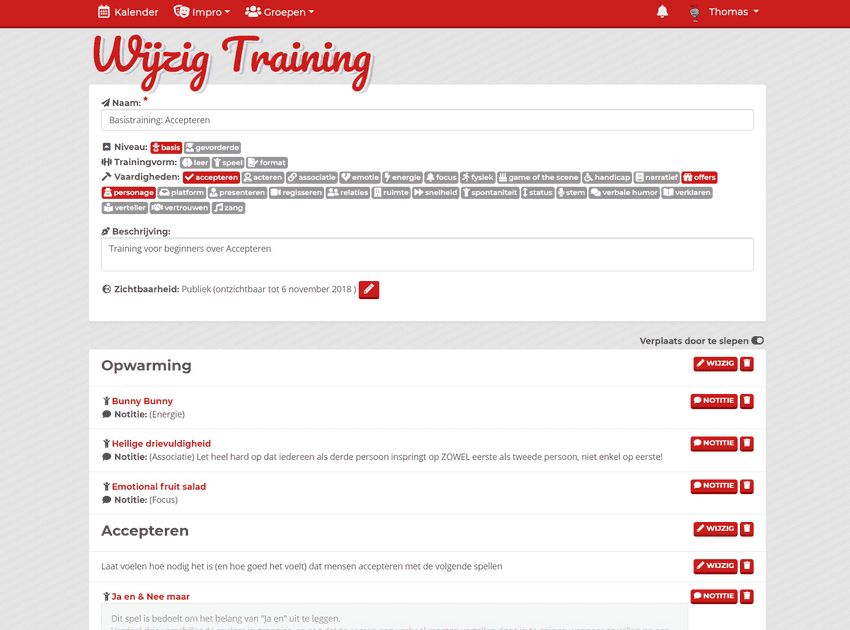 The training preparation can easily be linked to training events, enabling group members to quickly find more information about the workshop they had (or missed) earlier.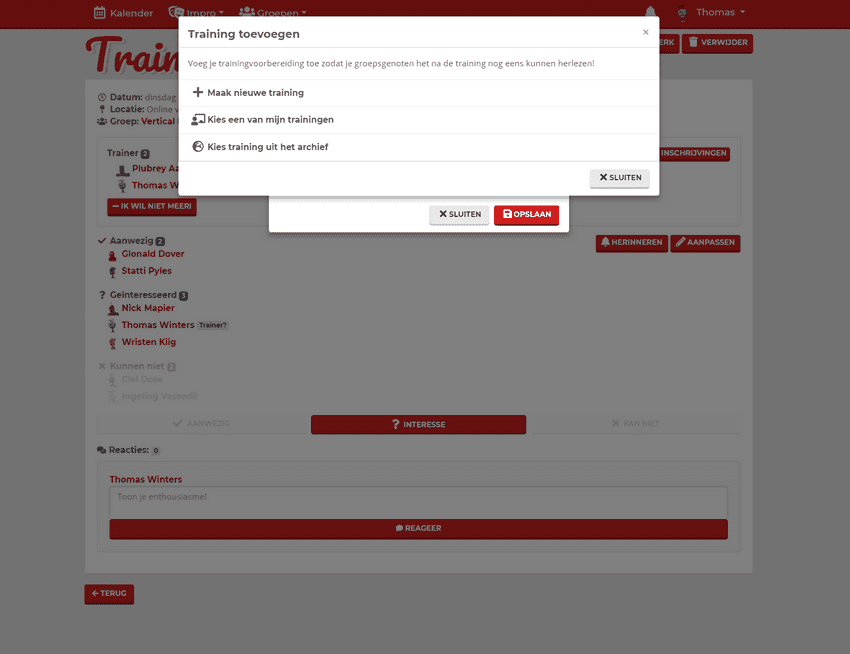 Library
Impy also provides an object lending system within improv groups. This can be useful for lending improv books or theatre attributes to other group members. These resources, as well as links to blogs and websites, also serve as a way for Impy members to educate themselves in a more diverse way about improvisational theatre and its techniques.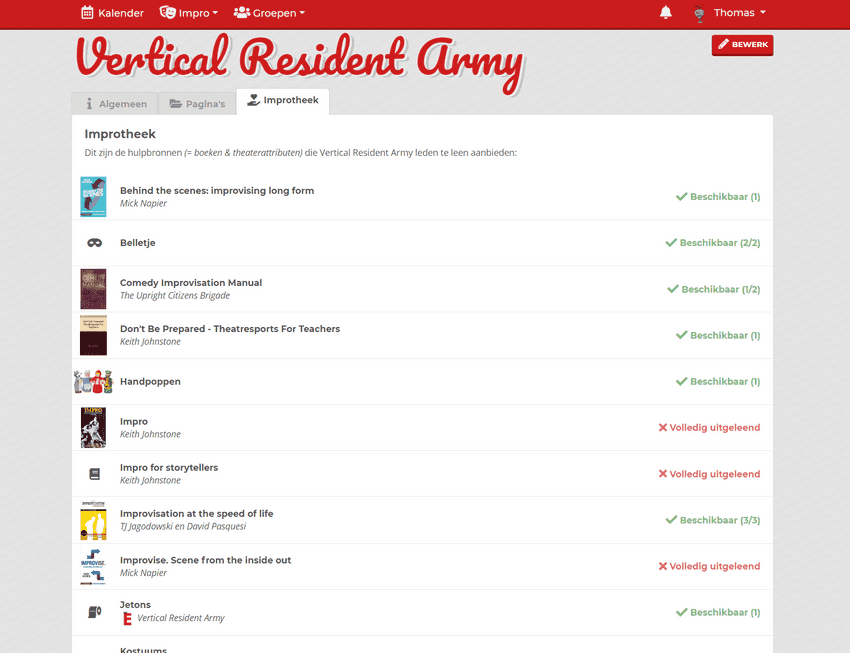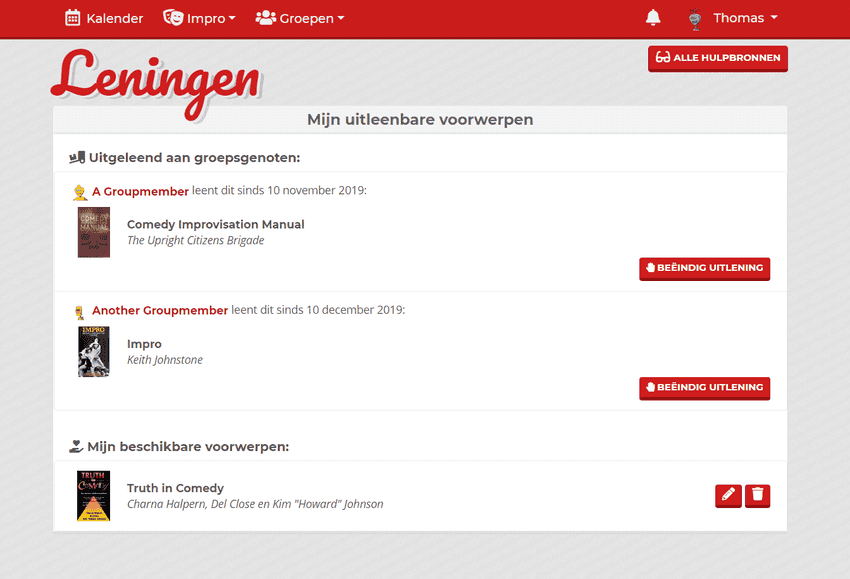 Notifications
Impy provides a notification system, both on the website, as well as through mail and pushes notifications.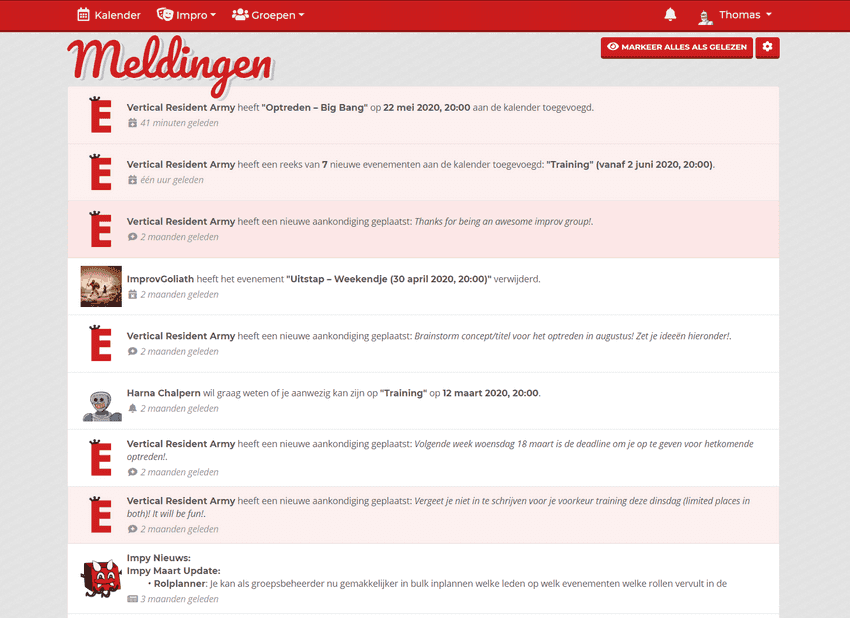 Join Impy
Want to join Impy with your improv group? Contact me (e.g. through Twitter or mail) to gain access!